NEW DELHI: The north-east could be poised to become the next target of the ongoing second wave of Covid, according to a forecasting tool based on data till May 21.
Development Data Lab, a research organisation working on open data, and a team led by University of Chicago's Prof Anup Malani calculates the reproductive rate (Rt) for the Covid-19 outbreak each day. This is a measure of how many people an infected person is likely to infect in a community. The calculations show that the Rt value is greater than 1 for all
northeastern states
.
An Rt of 1.36, the latest value for Tripura, means 100 cases could increase to over 5,000 in two weeks while an Rt of 0.89 (the value for Karnataka) could reduce 100 cases to 22 in the same period. Of course, if the values change in the interim the scenarios would too.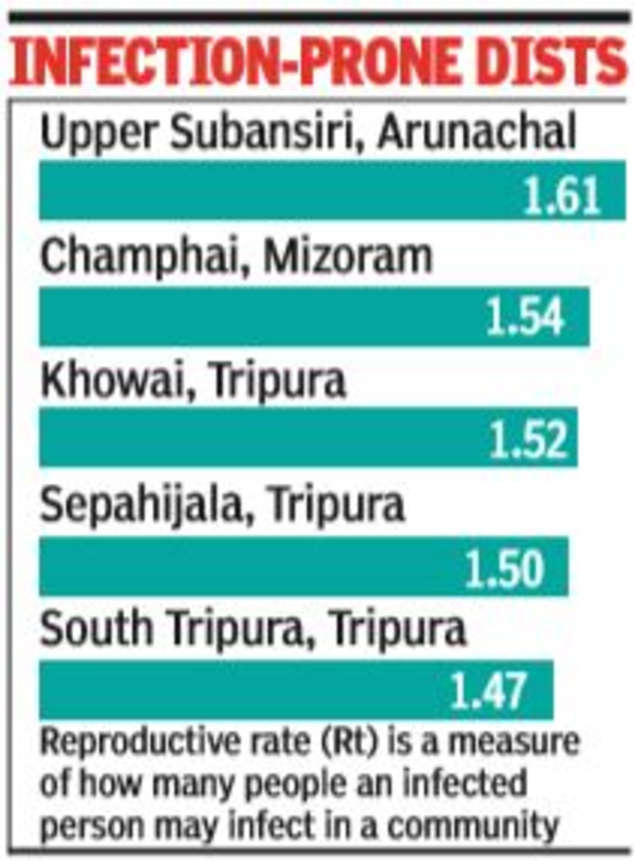 The data shows that there are 15 states and UTs where this value was more than 1 on May 21. At 1.36, the value is the highest for Tripura followed by Meghalaya at 1.31 and Arunachal Pradesh at 1.26. Apart from the eight northeastern states, Lakshadweep and Tamil Nadu are also present in the list of ten states or UTs with the highest Rt values. Other states and UTs that have a higher than 1 value for this indicator are Odisha, Puducherry, Andhra Pradesh, Ladakh and West Bengal, where the Rt ranged between 1,.02 to 1.06.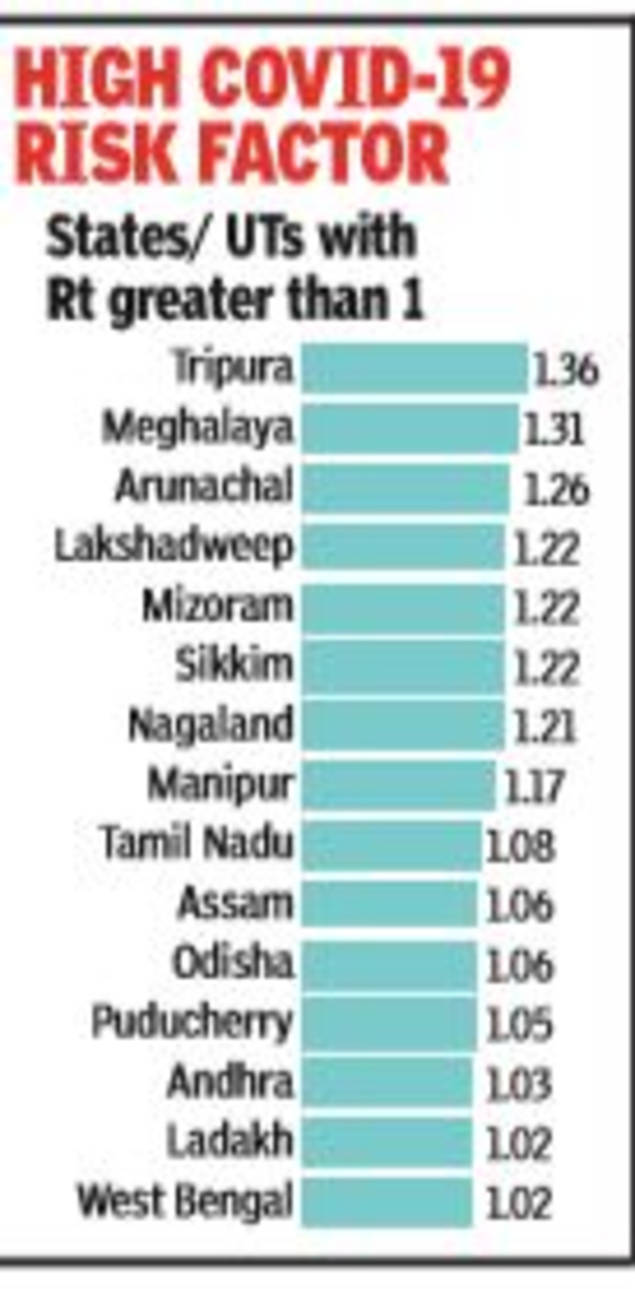 For the remaining 18 states and UTs for which the forecast is available, Rt was less than 1, indicating a declining future course of fresh cases. The list of states with calculated Rt values less than 1 includes Maharashtra, Karnataka, Kerala, Uttar Pradesh, Delhi, Chhattisgarh, Rajasthan and Gujarat, all of which have been recent epicentres of the ongoing outbreak.
A district-wise analysis of the data further buttresses the overall forecast. Of the 579 districts for which data was available as of May 21, the Rt value was greater than 1.3 for 25, of which 19 are in the country's northeast. At 1.6, Upper Subansiri district of Arunachal Pradesh had the highest Rt value. The value was 1.5 or above for Champhai in Mizoram, and Khowai and Sepahijala in Tripura. The six districts outside the northeast with Rt values higher than 1.3 were Chitradurga in Karnataka, Osmanabad in Maharashtra, Boudh in Odisha and Perambalur, Ariyalur and Tirupathur in Tamil Nadu.
Although daily cases are still at low levels in these districts, experience from the states that faced the earlier burnt of this outbreak suggests that a higher infection rate than the previous outbreak means cases can rise very fast and overwhelm the healthcare infrastructure.