Over 40% of India's 741 districts, or 301 of them, had a test positivity rate of 20% or more for the week from May 1 to May 7, according to data put out by the Union health ministry on Saturday. The fact that these districts are spread across 31 of the country's 36 states and UTs reveals how widespread the current surge in Covid infections is.
Of the 15 districts with positivity rates above 50% for the period, Haryana had four and Arunachal Pradesh and Rajasthan two each. What is striking is that most of these districts are rural ones. Since the testing numbers are not available, it is not clear whether this is due to inadequate testing or not.
The highest positivity rates for the seven-day period were in Changlang district of Arunachal Pradesh which registered 91.5%, but this is probably more an indication of an extremely low number of tests conducted.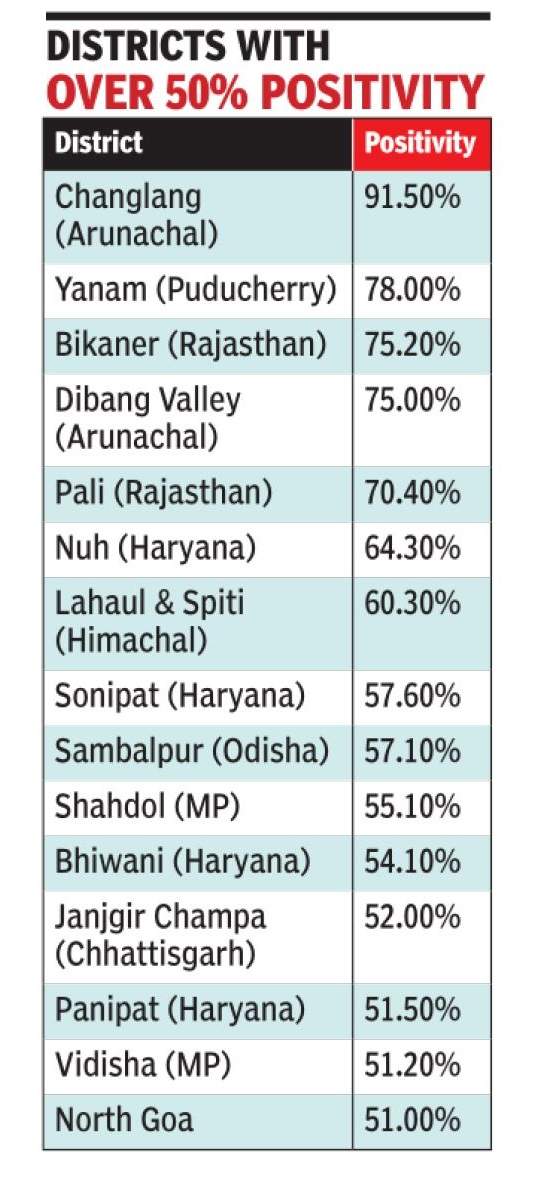 Next on the list were Yanam in Puducherry, Bikaner in Rajasthan, Diban Valley in Arunchal Pradesh and Pali in Rajasthan. The state with the highest proportion of districts on the 20%-plus list is Kerala with 13 of its 14 districts figuring here.
Haryana (19 out of 22), West Bengal (19 out of 23), Delhi (9 out of 11) and Karnataka (24 out of 31) were the others with over 70% of their districts in this worrying list. All districts in Goa and Puducherry, the lone district in Chandigarh and three out of four in Sikkim were also part of it.