NEW DELHI: The government and the
Congress
engaged in a war of words on Sunday over members of the Youth Congress supplying oxygen cylinders to two embassies in the capital. While the government said the supply was unsolicited, Youth Congress said that they had acted on specific requests.
Foreign affairs minister Dr S Jaishankar said that the supply of oxygen made to the Philippines embassy was "unsolicited" as there were no Covid-19 patients in the embassy. He said that the supply was made for "cheap publicity".
The Union minister's tweet came in response to senior Congress leader Jairam Ramesh questioning Centre's Covid-19 preparedness given how the youth wing members of the opposition party were responding to SOS calls made by foreign embassies.
While I thank @IYC for its stellar efforts, as an Indian citizen I'm stunned that the youth wing of the opposition… https://t.co/sHEjbi4G98

— Jairam Ramesh (@Jairam_Ramesh) 1619892254000
Indian Youth Congress president Srinivas BV on Saturday evening had shared a video of volunteers delivering oxygen cylinders to the embassy of the Philippines in New Delhi.
#SOSIYC members at Embassy of the Philippines in New Delhi. @indembmanila https://t.co/IkvcKAtdR3

— Srinivas B V (@srinivasiyc) 1619879255000
Another video of IYC volunteers delivering oxygen cylinders to the New Zealand high commission was shared on Sunday morning.
Update- New Zealand high commission opened gates of the embassy and accepted cylinders.Also, they thanked the… https://t.co/Wry3PxYCNF

— Srinivas B V (@srinivasiyc) 1619932270000
Following Jaishankar's claim that there was no oxygen request made from the embassy of the Philippines, the IYC shared screenshots of their communication with the members of the Philippines embassy.
@DrSJaishankar @Jairam_Ramesh We got a request for an urgent requirement of Oxygen Cylinders for 2 Covid patients i… https://t.co/WNXh8Eohj3

— Youth Congress (@IYC) 1619934929000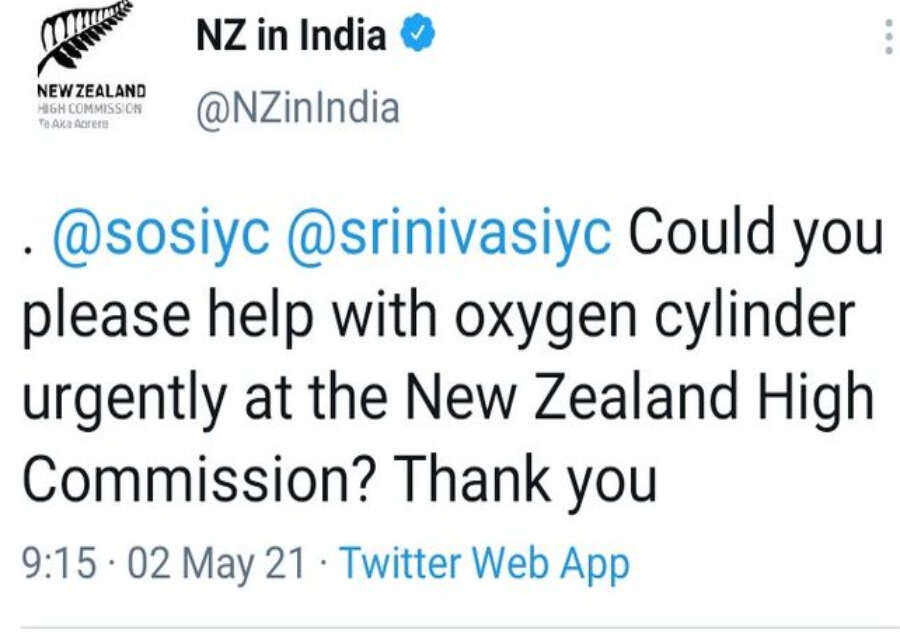 Even as the embassy of New Zealand deleted their earlier tweet in which they had tagged the IYC, later the embassy clarified that they were trying all sources to get oxygen and apologized for their request being misinterpreted.
We are trying all sources to arrange for oxygen cylinders urgently and our appeal has unfortunately been misinterpr… https://t.co/tDwlogn57R

— NZ in India (@NZinIndia) 1619930264000
Ministry of External Affairs (MEA) in a statement said that the ministry is responding to the medical demands of all the high commissions and embassies and also urged people to not hoard supplies.
"The Chief of Protocol and Heads of Divisions are in continuous touch with all High Commissions/Embassies and MEA is responding to their medical demands, especially those related to Covid. This includes facilitating their hospital treatment. Given the pandemic situation, all are urged not to hoard essential supplies, including oxygen," said the statement.
The controversy broke out even as India continues to record almost 4 lakh new cases and more than 3,000 deaths as the second wave of Covid-19 turns into a storm causing an acute shortage of oxygen, hospital beds and medical supplies.